Bgo casino has made a huge name for itself in the igaming industry. It's one of those casinos that's not afraid of giving a huge appreciation to its players in terms of thrilling prizes. This time, they've decided to take things up a notch, so if watching Formula 1 drivers smash records is your kind of thing, then you're in luck. Bgo is giving away an exclusive Abu Dhabi Grand Prix package for two and all you have to do is play. They're willing to take the winner on a time of their lives at the season-finale F1 Grand Prix at Abu Dhabi.
How to compete about the trip at Bgo Casino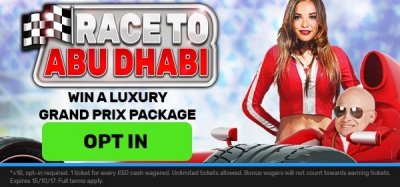 A return flight for two to the largest of UAE's seven emirates to watch the racing action is not all you get from this promotion. The package also comes with a  Drive the Track Tour, Pit Lane Walk, and a chance to dine with world-class drivers at the renowned Paddock Club Party. You'll also spend five nights at the Radisson Blu Hotel on Yas Island. The promotion runs until the 15th October 2017.
To earn an entry to the final draw, all you need to do is play play and play at Bgo casino. But first, you'll need to click the opt-in button so that your wagers can earn you tickets. Remember, for every £50, you earn yourself a single ticket to the final draw so the more you wager, the more tickets you get. On the 15th October, ten winners will be randomly drawn and awarded prizes in order of the draw. While the first in place wins the main prize, there are also other prizes for the next nine. Second in place wins a limited-edition Tag Heuer F1 Watch and the third gets a Supercar Driving Experience worth £500. The 4th to 10th place earn £500 to £100 in cash.
Casino
Free spins
Rating
Play now

£1500 BONUS
200 FREE SPINS

4.9/5

 
 
Weekly prizes through Bgo's raffles
The boss also has some fantastic weekly prizes just to keep the energy going. £1000 will be raffled off each week for three weeks during this promotion and the tickets will also count towards this raffle. Five winners will be selected and they'll share the £1000 prize pool with the first earning a £500, second £250, third and fourth £100 and fifth player going home with a £50. These cash prizes also don't have any wagering requirements so the cash is yours to do as you wish. The weekly draws each end on 24th September, 1st October and 8th October so be quick in earning your tickets.
---
Other posts